We are a close team, who have worked together for many years, creating a family owned feel to the company. This plays an important part in the Greenfields culture and only the right individuals are employed to enhance the team.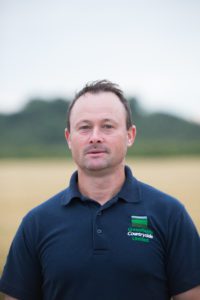 Neil Perks
Founder and Director of Greenfields
Neil has been working in the countryside management industry for over 30 years, having worked his way up from a Farm Labourer to owning Greenfields and making it the success it is today. Neil has vast operational experience in all aspects of countryside management, continuing to develop his high level of knowledge as the company grows. Neil is responsible for the generation of new business while still maintaining excellent relationships with our existing clients. The repeat business we generate is testament to these relationships and we continue to be recommended to clients through our reputation.
James Maplethorpe
Director of Greenfields
James joined Greenfields in 2007 after working with Neil for many years at a previous employer and developing a strong working relationship.  James also has vast knowledge and experience in all aspects of countryside management.  The client relationships James has developed over the years has enhanced the partnership and together Greenfields continues to grow and expand.
Michelle Perks
Health & Safety Manager and Company Secretary
Responsible for all Health & Safety and Human Resources within the company, Michelle demands exceptional Health & Safety standards from all employees and sub-contractors.  She currently holds her National General Certificate in Occupational Health & Safety and IOSH Directing Safely.  The Health & Safety culture that Michelle has created is the cornerstone to the business and provides us with an exceptional reputation within the industry.
Sarah Wake
Office & Accounts Manager
Sarah is responsible for all aspects of office management, invoicing, customer services and marketing.  Sarah is likely to be your first point of contact when contacting Greenfields and will provide you with the very best in customer care. 
Russell Milligan
Contracts Manager
Russell joined Greenfields in 2006 and is the longest serving member of staff. A vital part of the team, he is greatly experienced in all aspects of countryside management and manages daily site operations.  Russell is highly respected by our clients and continues to grow his experience and level of responsibility within the company.
Jon Sambrook
Fencing Manager
In 1989 Jon started a farming career after attending college where he gained a Diploma in Agriculture, latterly working for a farm management company where he did his BASIS and FACTS to qualify as an agronomist. Jon finished his farming career in 2002 to start his own fencing business. He has been a sub-contractor to Greenfields since 2014 but has now joined the team full time as our Fencing Manager. Jon's hobbies include airsoft and playing the guitar in his spare time. 
Robert Rushton
Site Supervisor
Rob brings with him vast construction and railway experience.  He has undergone an extensive training programme and is fully certified in all aspects of Forestry. Rob has become highly respected within the team and with our clients.
Becki Fulcher
Office & Accounts Administrator
Becki joined the Greenfields team in September 2018 as our Support Administrator. She quickly became an integral part of the office and brings with her great organisation and customer service skills. Becki is mainly responsible for all the companies marketing, social media and general office duties and has now taken on a new role as Office & Accounts Administrator to support Sarah with accounts along side her existing office duties.
Charlotte Lambert
Health & Safety Administrator
Charlotte joined the Greenfields team in August 2020 and will be responsible for maintaining our high standards of Health & Safety, supporting our Health & Safety Manager Michelle and taking on other office duties when required. In her spare time she enjoys the great outdoors and partakes in running, cycling, outdoor swimming, and skydiving. Charlotte currently holds two formation skydiving world records.
Ross Morgan
Health & Safety Support (Maternity cover)
Ross joined the Greenfields Team in September 2021 to cover maternity leave. He's previously worked for many years for the National Radiological Protection Board (NRPB) and the Imperial College London in the field of Radiation Protection, but now forms part of the health & safety team at Greenfields. Ross holds a NEBOSH General Certificate in Occupational Health and Safety. He is a keen sportsperson and likes to race Dragon Boats with his local Dragon Boat racing team.
Thomas Simmons
Site Operative
Thomas joined us in January 2019 as our first Apprentice and attended Brooksby Melton College alongside working for Greenfields. Thomas has now completed his College course and joined our team as a full time Site Operative. His main interest is Arboriculture,  however we will be training him in all aspects of Countryside Management to provide him with a good foundation for his future within the industry.
Josh Perks
Site Operative
Josh is one of the youngest members of our team but this most definitely hasn't held him back, he has already undergone extensive training and gained various NPTC certification as well as his NPORS card and tractor licence. We hope Josh will stay with us for many years as we can see he has so much potential. Joshua's chatty, sociable and cheerful personality brings joy and laughter to the Greenfields family team.
Richard Boot
Site Operative
Richard joined Greenfields in May 2021 after deciding he wanted a career change to be able to work outdoors. Richard shows great willingness to learn and has a great interest in ecology and arboriculture within the countryside management industry. His hobbies include running, skateboarding and campervanning with his family.
Daniel Ellis
Apprentice
Daniel recently joined Greenfields as an apprentice in December 2021, studying at Brooksby College on the forestry apprentice course one day a week to help gain his certificates in specific areas. He has a strong passion for horticulture/forestry works and joined our Greenfields team to enable him to expand his knowledge and skills to gain a career within this industry. His hobbies include football/goalie training, running and cycling. He also loves to watch ice hockey and has been very lucky to watch the National Ice Hockey League in Canada.
Alexander Robinson
Apprentice
Sub-Contractors
We have several sub-contractors who have worked for Greenfields for many years.  They are an integral part of the team and really are one of the family! All sub-contractors undergo a rigorous assessment before they work for Greenfields and they must adhere to all policies, procedures, method statements and risk assessments outlined in our Business Management System.